Properties



Avalon
Old Towne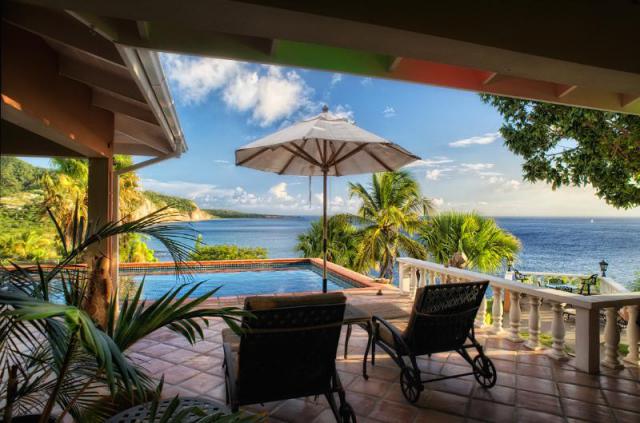 Ocean front villa with world class views; the best Montserrat has to offer!

PHOTO GALLERY (2023)



This gorgeous oceanfront villa is located on the island of Montserrat, near Antigua and St. Kitts in the West Indies.

Featured on House Hunter International (HHI) in July 2015, this one of a kind villa is available for rent! But be aware that once you experience Avalon, you will never want to leave this amazing property!

This property is walking distance to the Montserrat View Pointe Hotel and Little Bay beach.

Comfortably sleeps up to six guests, with king beds in each bedrooms, as well as en-suite private bathrooms. The villa has 3 bedrooms, 3 bathrooms, a lookout on the cliff, an infinity pool, and phenomenal ocean views, just to name a few of this property's features.

Just imagine yourself relaxing with the melody of ocean waves below your Montserrat getaway.

For quiet and comfortable relaxation, there's no better place! The villa has a pool, wifi and TV, as well as some of the most beautiful views in the world. A beach within an easy walk, beach bar nearby, good restaurants, snorkeling, scuba diving, sailing and hiking are readily available.





November - April
1 week ... starting at US $2,400/wk
3+ weeks ... starting at US $2,200/wk
3+ months ... starting at US $6,850/mth+utilities*

May - October
1 week ... starting at US $1,800/wk
3+ weeks ... starting at US $1,600/wk
3+ months ... starting at US $4,850/mth+utilities*

Weekly pricing is based on one (1) bedroom double occupancy only. Please add US$1,200/week for each additional bedroom required, maximum double occupancy per bedroom, up to 6 guests total at this villa. Cleaning and taxes are extra. A security deposit is required for all rentals.

There is no guarantee of availability until a deposit is received. The balance is due no later than 8 weeks prior to your arrival.

*Utilities - including water, gas, electrical, wi-fi, cable, cleaning supplies and pool chemicals - are not included in long term contract (3+ months). Utilities deposit required. Long term price includes the use of only two (2) bedrooms, maximum double occupancy. For use of an additional bedroom please inquire for pricing.
Property Features: Controlled Entry, Ocean Waterfront, Swimming Pool, View, Beach View, Garage
| | | | | | |
| --- | --- | --- | --- | --- | --- |
| PROPERTY TYPE | PRICE | BEDS | BATHS | BUILDING | PROPERTY |
| House | $1,800.00/wk | 3 | 3 | N/A | N/A |
The above information is secured from sources assumed reliable but not guaranteed. All information on this website, including property, is subject to prior sale, price changes, correction or withdrawal.
MORTGAGE CALCULATOR
BACK TO LISTINGS
START A NEW SEARCH
Whether you are looking to buy, rent or list your property on Montserrat Villas, or simply want to give us feedback, we want to hear from you!
mj (at)biscottio (dot) com


Montserrat Villas • Tel: 416-258-6268

Properties | Pricing | Gallery | Management | Montserrat | Testimonials
Advertising | Reservation | Contact | Home